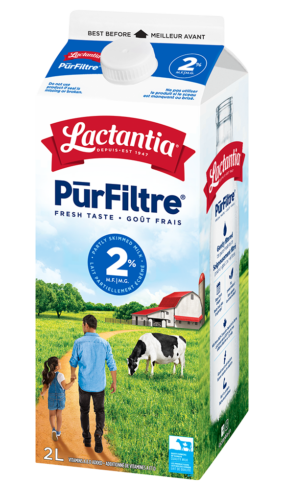 Lactantia® PūrFiltre 2% Milk 2L
Pure freshness.


There's nothing like the fresh taste of a tall glass of milk. Lactantia® PūrFiltre Milk – pure deliciousness that stays fresh longer without preservatives.
Stays fresh longer compared to our regular pasteurized milk when refrigerated and unopened. Contains no preservatives, like all regular milk.

Ingredients:
Partly skimmed milk, Vitamin A Palmitate and Vitamin D3
West
237 mL Bottle
473 mL Bottle
1.5L Bottle
Atlantic
237 mL Bottle
473 mL Bottle
1.5L Bottle
Ontario
9 mL
15 mL
200 mL
237 mL Bottle
473 mL
473 mL Bottle
1L Carton
1.5L Bottle
2L Carton
4L Bag
Quebec
9 mL
15 mL
200 mL
237 mL Bottle
473 mL
473 mL Bottle
1L Carton
1.5L Bottle
2L Carton
4L Bag